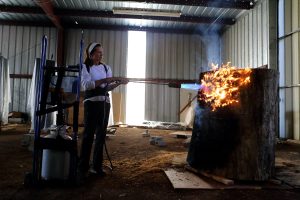 Hunt's sculpture and video installations have been shown nationally for over three decades. Her minimal organic forms made from discarded wood focus on the provenance of material, connecting history and social/environmental awareness. These forms are often associated with maritime shapes, which echo her New England upbringing. Hunt's use of solid wood covered in graphite or scorched by fire recall an atavistic quality, as the presence of her sculptures have a reference of human scale.
Hunt's work speaks of human, earthy visceral responses. The raw material and simple form are both elemental and mysterious. A tribal language is born in Hunt's work, as it is primitive, minimal and modernist all at the same time. Hunts surfaces in charred wood, burnished, graphite covered, stained, waxed or bleached continues her dialogue of exploring and pushing the material.
Hunt has also explored the transformation of her wooden sculpture to permanent materials. Thus, pieces have been cast in aluminum, glass, stainless steel, bronze and cement. Although the form of the piece is identical to the original wood sculpture, including the texture of the wood, each material provides a different look and feeling. For example; the glass looks and feels heavier and cooler than wood. The surface differs in its quality of depth and color, showing her exploration of raw material highlighting the obvious vitrification. This shows the intention of cement, glass or aluminum, praising that new material as well as the wood's original language. This is an extension of sculpting wood and investigates new avenues as it makes wood permanent for the outdoors.